BT 3000 plus
The experience reached with the analyser BT3000 Plus, one of the most famous and diffused analysers for clinical chemistry in the world, have produced his/her logic evolution:
The point of reference for the future in the modern laboratory of clinical analysis.The Know how thirty-year of the Biotecnica Instruments SpA matured in the sector, has allowed the realization of this new analyser perfect synthesis of technology, performances and design.The theme proposed to our planners has been that to realize a new tool, that in the raccoglierel'esperienza of the preceding series of analysers, it maintained the formulation of it bringing all the improvements and innovations that technology allows. List of some special characteristics and technical performances that it makes of this analyser an assembled of technology and reliability, been born by the experience of a society Leader in the world:
- 12 microcontroller of last generation that manage, coordinated by the central unity teninspectors of last generation that manage, coordinated by the central unity, ten different microsystems for a great speed of elaboration and availability of resources for the central unity.
- Connection among the processors with technical dual wire for a great protection of the circuits from the external troubles..
- New feeder with technology PFC (Power Factor Correction) to tall performances and energy saving..
- DVD multimedia capability
- WINDOWS 7 32 bit interface software
still more...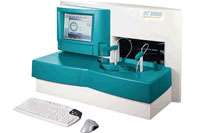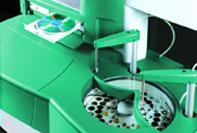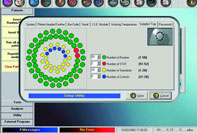 TECHNICAL SPECIFICATIONS

Throughput

Up to 300 Chem. Tests/hr + up to 190 ISE Tests/hr

ISE Module on board

Yes: Na, K, Cl, CO2

Number of reagents

80 Total - (40 for or 80ml + 40 for 10ml or 20ml)

Refrigerated Reagent Bay

Yes

Reaction volume

From 280 to 700 µl

Sample volume

From 1 to 100 µl

Reading cuvettes

34 non-disposable optical glass

Sampling Arm

2 for Serum and Reagents

Number of position

78 Total - 52 Samples - 26 Standards and Control

Test Modes

Random Access, Batch, STAT

Test Directory

Up to 500

Temperature control

Peltier System OFF/30/32/37°C (±0,2°C)

Vacuum Pump

External

Photometer

Solid state 10 channel + Reference channel

Photometer Accuracy

± 1% (0-2 O.D.), + 2,5% (2-3 O.D.)

Photometer Sensitivity

± 0,001 Abs

Diluter

2 - Long life ceramic 470 µl

Diluter Accuracy

± 0,1% f.s.

Diluter Sensitivity

± 1 µl

Bar Code

2: Reagent and Serum

Internal Computer

CPU Atom 1.8 GHz

Peripheral Devices

DVD ROM, HD>40 Gb

Monitor

Color LCD 12"

Touch-screen

Yes: Glass Protected resistive kind

Keyboard

U.S.A. Standard

Mouse

Yes

Software

Windows® 7 32 bit

Process electronic

12 Microcontrollers I² CBUS Protocol

Interface

RS232, Bidirectional + USB + LAN + VGA

Built in QC Program

Yes: 3 Levels known, 3 Levels Unknown

Maintenance

Software assisted

Power Supply

100/240 Volt, 50-60Hz, 1000 Watts, PFC

Environmental temperature

18 - 32°C (64.4-89.6°F)

Relative humidity

10 - 85% (not condensing)

Dimension

Height - 27", Width - 40", Depth - 23"

Weight

210 lb (95 Kg.)

Windows 2000®, Intel Pentium® and Cubitainer® are registered of Microsoft Corporation, Intel and Emergency Resources.
IBM is registered trademark of the International Business Machine.

Features may change without notice